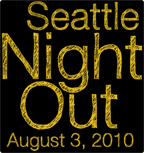 Seattle Night Out is tonight! Night Out is an evening event in which communities hold block parties where neighbors can connect with each other and organize their neighborhoods against crime. We haven't heard about very many neighborhood parties this year, but we do know of a couple:
The Jun Hong Kung Fu and Sports Association is hosting an event from 7:00 until 9:00. There will be a Lion Dance performance, a Kung Fu demonstration, and coconut ice cream. Please bring a dessert to share. All are welcome! The Jun Hong Kung Fu and Sports Association is located at 4878 Beacon Avenue South.
Krizten Breidenich is hosting a North Beacon block party from 6:00 to 10:00 pm in the 2000 block of 12th Avenue South, between Hill and Plum streets. Plates, utensils, napkins and non-alcoholic beverages will be provided. Please bring donations to cover the costs, as well as "stuff to grill, a dish to pass or your beverage of choice."

Is anyone else hosting a Night Out event tonight? If so, please post in the comments.