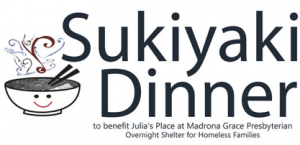 Blaine Memorial United Methodist Church, located on 24th Avenue South near Kimball Elementary School, is having their annual sukiyaki dinner this Saturday, March 3. The event will benefit Julia's Place at Madrona Grace Presbyterian, an overnight shelter for homeless families.
There will be both sit-down and take-out food available. The take-out availability (cooked and uncooked) starts at 2 p.m. and runs until 5 p.m., and sit-down dining will be open from 4 p.m. until 7 p.m. Tickets for the event are $12 for adults and $8 for children 11 and under.
For further information, please contact the church at (206) 723-1536. Blaine Memorial United Methodist is located at 3001 24th Ave. S.