(This story was supposed to post on the website on March 2. Because of an error, it did not post when it was scheduled to in the blog software. We apologize for the delay. — Ed.)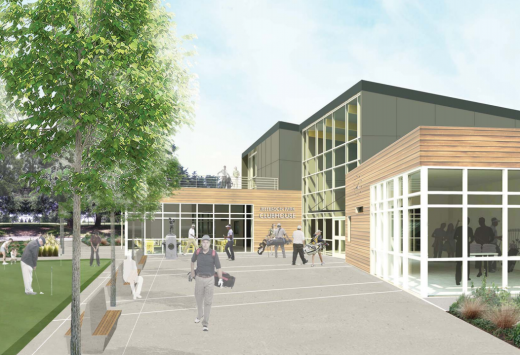 The Seattle Department of Planning and Development (DPD) has published a notice of application for the new Jefferson Park Golf Clubhouse, as follows:
"Council Land Use Action to allow a new 19,800 sq. ft. two-story clubhouse and driving range structure (Jefferson Park Golf Course). Project includes new field lighting up to 90 ft. in height, netting/net poles up to 140 ft. in height, and 63 additional surface parking spaces for a total of 80 parking spaces. Existing clubhouse and driving structures to be demolished. Review includes a 4,100 sq. ft. single-story cart storage structure and 20,000 sq. ft. of paving improvements located on the eastside of Beacon Avenue South (DPD #3013107: 4100 Beacon Avenue South). Determination of Non-Significance prepared by the Seattle Parks & Recreation."
Currently, the project still needs to complete the SEPA environmental review process, and the City Council must approve the expansion of a public facility in a single family zone. SEPA is the State Environmental Policy Act, which requires public agencies to consider the environmental impacts of a proposal before it can be approved.
The deadline for public comment on the project is less than two weeks away: March 13. You can comment online here.