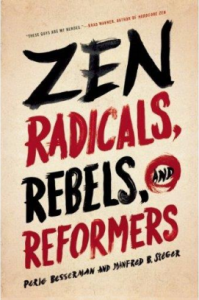 The Chobo-Ji Zen Temple
at 1733 S. Horton St. in North Beacon Hill has some upcoming events, including Zen meditation classes, a book club, and a three-day meditation retreat. Read on for the details:
The Zen Meditation class series is a four-week introduction to the spiritual practice of Zen on Tuesday evenings from 7:30 to 8:30 p.m., followed by a Sunday retreat. The schedule includes:
4/16 Zazen: the practice of Zen Meditation
4/23 Meditation in Motion: tea service, chanting, bowing, walking meditation
4/30 Zen Meals: cooking and eating in Zen
5/7 Rinzai Zen with Rev. Genjo Marinello
Sunday, 5/12, 5-11:30 a.m. A half-day Zen retreat
Interested folks are welcome to attend one or all classes. The suggested donation is $20 for the class series, and $40 for the classes and the half-day retreat. More info is on the class flyer here.
The Chobo-Ji Zen Book Club will be reading the book Zen Radicals, Rebels and Reformers by Manfred Steger and Perle Besserman, and meeting at Chobo-Ji to discuss it from April 11 to June 6, every Thursday evening at 7:00-8:30 p.m. Detailed information about the schedule is in the flyer here. Each session will mix dialogue and meditation. The suggested donation is $5 per meeting, and guests may attend all sessions, or individual classes. Cookies and tea will be provided.
On Friday to Sunday, April 19-21, Chobo-Ji will host a 3-day Odayaka Sesshin Zen meditation retreat. Odayaka means gentle and peaceful, and sesshin refers to a period of meditation. According to the info from Chobo-Ji, "This Zen meditation retreat will be structured and conducted in a less rigorous style than our usual retreats. There will be more dialogue, movement, accommodationfor physical limits, and a less intense schedule. It is open to young and old; anybody who wants serious spiritual practice without the sometimes limiting severity of a typical zen retreat."
To register for all or part of the retreat, email zen@choboji.org to confirm your spot.