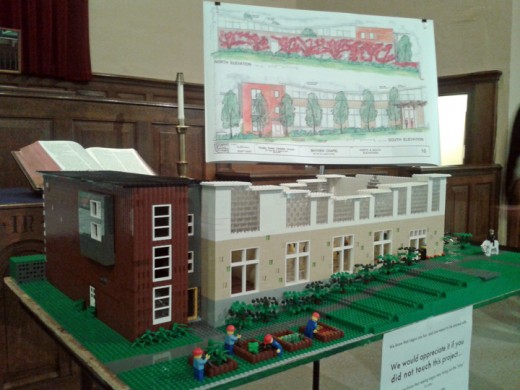 The long-delayed Findlay Street Christian Church project at South Bayview Street and 14th Avenue South on North Beacon Hill may be moving forward after all, so they are hosting a benefit concert to celebrate and raise funds for the project.
The church, previously located in Hillman City, sold its property some years ago, planning to move to Beacon Hill and develop what they have described as "an ambitious, forward-looking, mixed-use building that included worship space and multi-unit affordable housing." But in January of this year, a church statement said "Unfortunately, we have run into a number of unforeseen setbacks and have so far been unable to get the project off the ground."
Now that things are moving forward, they plan to celebrate (and raise funds) this Friday, November 9, with a concert featuring two a cappella groups, 545 Express and Shot in the Dark. Along with the music, guests will be able to see a large Lego rendering of the planned building, created by one of Findlay Street's youth members.
The concert is at 7 p.m. this Friday, November 9, at Mt. Baker Park Presbyterian Church, 3201 Hunter Blvd. S. The suggested donation is $10.