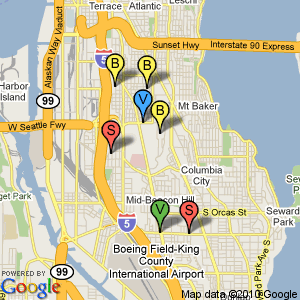 Rodney James was sentenced to 30 months in prison for the December 12th alcohol-involved crash that injured Wah and Jason Wong on Columbian Way. The West Seattle Blog has minute-by-minute coverage of the sentencing hearing. Thanks, Seattle Times and WSB!
* * *
Man shot in robbery — On the night of January 7th around 10:15pm, a man was robbed by several suspects in a black Jeep in the alley between 15th and 16th, just north of Plum. After refusing to turn over his money as demanded, three of the suspects physically assaulted the victim and the driver, a white female, fired a small handgun, striking the victim in the left torso. The victim reports he escaped and heard two more shots as he fled. After returning to his home near 16th and Holgate and evaluating his wounds, he took a cab to Harborview and reported the incident to police on January 10th. The reporting officer was unable to correspond any 911 calls to the approximate time of the incident.
Thanks to Scott from CDNews for forwarding the police report.
* * *
Selected incidents of note, collected from bhnw.org scanner logs and recent mailing list postings:
Burglaries
2/6 10:30pm near 13th and Bayview: Forced entry burglary.
2/9 2:45pm near 25th and Bradford: Forced entry burglary.
2/11 1:00pm near 21st and Waite: An attempted burglary. Police responded with suspect still in the yard.
Shooting/Weapons
2/9 4:15pm near 33rd and Graham: A woman saw someone leaving something something in her trash. When confronted he pulled a gun on her and then jumped into a black Mercedes and left.
Vehicle theft
2/14 near 19th and Spokane: As reported on the BAN list, a teal 1992 Honda Civic hatchback was stolen and replaced with a nearly identical vehicle(!). The missing vehicle has plate number 932VQS. The "replacement" vehicle, also presumably stolen, has plate number 187WHY.
Vehicle break-in
2/15 8:30am near Beacon and Graham
Other suspicious activity
2/10 2:45pm near 12th and Nevada: Two men came to the resident's door and tried to get in. Perhaps unrelatedly, about three hours later a drive-by shooting occurred at this same address.
* * *
$7,500 reward for return of stolen data — Eriq Chang lost his entire business last weekend when, in a seemingly targeted occurrence, his home was burgled and the only items stolen were his computer and backup drive.
Following the break is a formal request, reward stipulation, and release of liability on return of the stolen data as drafted by Eriq's attorney. If you can help Eriq out, contact his lawyer or email Eriq directly at eriq@eriqchangstudio.com or call 206-659-5585.
Continue reading Crime notes: James sentenced, scanner logs, $7.5K reward →