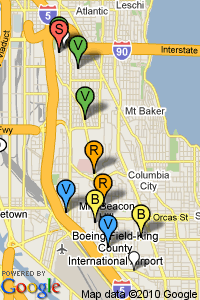 Selected scanner items from bhnw.org:
1/13 10:30pm — Burglary: 22nd and Kenny
1/14 1:30pm — Burglary: 35th and Graham
1/15 7:15pm — Vehicle Theft: 15th and Lucile
1/18 3:00pm — Vehicle Break-in: 12th and Atlantic
1/25 9:30pm — Shooting / Weapons: 12th and Atlantic
1/27 1:45pm — Robbery: Beacon and Alaska
1/29 10:30am — Other: 32nd and Myrtle
1/29 12:30pm — Other: 13th and Atlantic
1/31 5:30pm — Vehicle Theft: Beacon and Morgan
2/1 3:45pm — Robbery: Beacon and Brandon
2/4 1:15pm — Vehicle Break-in: Beacon and Horton
2/5 2:30pm — Vehicle Break-in: 17th and Plum
* * *
Collen wrote to the mailing list about a daytime break-in on January 21st at 18th and College where they smashed the bathroom window and took a computer, several iPods, and a camera. He also mentioned that his girlfriend's car window was smashed a few nights later nearby.
* * *
John Wright also wrote to the list about a car theft and recovery:
Just wanted to let you know that my friend's car was stolen on Saturday, 1/23, between 10:30 p.m. and Midnight. It was a red 1998 Honda Civic 4-door. It was parked on 17th Ave S near Holgate. We didn't hear anything, and our dogs (who bark at just about everything) did not make a peep.

It was recovered Sunday morning in the Bryn Mawr area of Renton. It was sitting in a ditch, stereo stolen, steering console trashed, windows open. Rear passenger door was tagged on the inside with a gang sign. They stole the De La Soul CD, but left behind the Nirvana and Nada Surf. 🙂
* * *
From SeattleCrime.com's Robbery Round-up:
January 15th, South Seattle: A man ran inside Cleveland High School and told officers working off-duty at a basketball game that he'd been carjacked at gun point. The man told police he was parked outside the school's gym when two other men approached him, put a gun to his head and demanded his vehicle. The report says the victim told the robbers "he was ready to die" and to "go ahead and shoot if he was going to kill him." The victim eventually handed over the car and the suspects drove off.
* * *
After the jump, two lists of very good advice from Felicia and Craig via the mailing list.
Continue reading Crime notes: Tips, burglaries, and more tips →