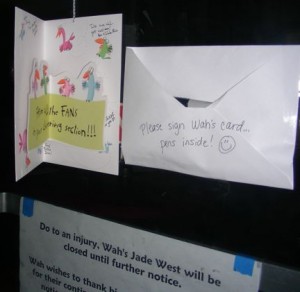 Wah Wong, the proprietor of the Jade West Cafe in West Seattle, who was injured in the DUI Corvette incident last week, has been released from Harborview. His son, Jason, is still in the hospital, reportedly in satisfactory condition — West Seattle Blog
* * *
El Centro's Roberto Maestas has been appointed to Mayor-elect McGinn's Police Chief Search Committee.
* * *
A lost dog followed Jennie home. She writes:
Today a young, male American Staffordshire Terrier (possible mix) followed me and my dog home. We found him near the library. He is mostly white with some brindle spots on his back and ear and has bright ice white-blue eyes. He's very friendly.
He has no tags and the veterinarian found no ID chip. She'll be calling Animal Control soon, but if you recognize this dog by description, please call 206-971-6028.