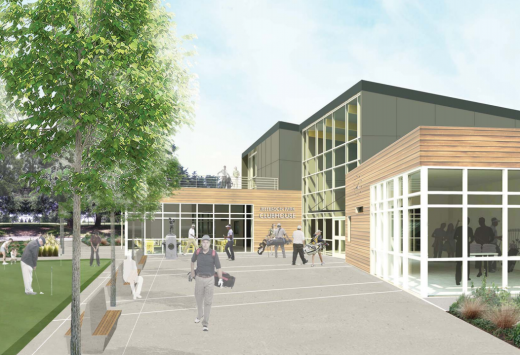 Bassetti Architects has recently presented a version of the development concept for the Jefferson Park Golf Course renovation to the city's Design Commission. You can view it here (PDF). It appears to be a PowerPoint-type presentation, so it's a bit sparse.
The general project page is here. Most of what is in the new presentation was also in the December 15 public meeting presentation. (If there are any substantial changes I missed, please let me know!)
The current Jefferson Park Golf Clubhouse, which would be torn down and replaced with a new two-story clubhouse under this proposal, was recently nominated for landmark status. The City of Seattle Landmarks Preservation Board will hold a public meeting to consider the landmark nomination on next Wednesday, February 15 at 3:30 p.m. in the Seattle Municipal Tower, 700 5th Ave., Suite 1700. All interested may attend. If you can't attend and still wish to comment, you can comment by email to beth.chave@seattle.gov, or by regular mail to the address in the previous post.