Mike's car (mentioned previously) and several others were recovered last Wednesday. It was apparently purloined by a person with a penchant for Subarus, having stolen several without damaging windows or steering locks, ditching one and taking another as-needed, and even leaving the ditched cars parked safely. Mike says:
It was left on a hill, with the tires turned towards the curb, with the brake set. Now that is a nice criminal. I could not find the note of apology though.
* * *
Daniel Hicks, charged with the murder of his girlfriend and baby daughter, to be extradited from Santa Cruz, CA.
* * *
The "magazine salesman" (previously) is apparently pretty well-known. His name is Darryl, and he's been seen everywhere from Cheasty to 23rd and Horton to 18th and Plum to the Central District and Leschi, hawking subscriptions to normally-free magazines and newspapers.
* * *
SeattleCrime.com has an account of a robbery and possible attempted rape near Columbia Drive and South Ferdinand, in the middle of the day, two days before Christmas.
* * *
Craig Thompson reported to the mailing lists that the pay-phones outside the 76 station at Beacon and 14th, an attractant of nefariousness, have been removed, and the empty booths are soon to follow. Thanks, Craig!
* * *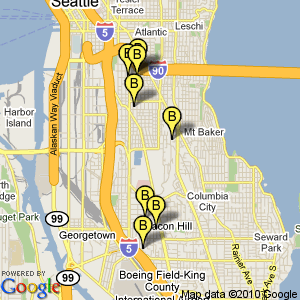 A sampling of recent burglary activity recorded by
bhnw.org
:
All alarms on Thursday, 12/30:
2:30pm @ 16th and College
2:45pm @ 15th and Massachusetts
3:00pm @ 23rd and Lucile
3:45pm @ 19th and Raymond
Friday, 12/31:
2:15pm @ 19th and Dawson — forced entry burglary
Monday, 1/4:
10:30am @ Morse, off Cheasty — attempt forced entry burglary
12:10pm @ 17th and Massachusetts — suspected burglary
5:00pm @ 17th and Atlantic — forced entry burglary
Thanks again to the BHNW volunteer crew.