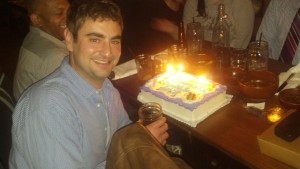 We recently received the following message from a neighbor:
From Abde Elshafei and Family:

Dear North Beacon Hill Neighbors,

I moved to the neighborhood last August in a house that my friend Niko purchased on 12th Ave S. I have experienced nothing but a very friendly and cool vibe from all my new neighbors.

That changed this Monday, March 25th. While riding my bicycle back from the Red Apple market I was struck by a car on the 13th Ave S and S Stevens Street intersection. The impact knocked me completely unconscious, broke my pelvis, injured my shoulder and I received a severe concussion that included bleeding internal to my brain.

I was fortunate enough to survive the accident and I am very grateful for that and I just found out that a few friendly neighbors near that intersection immediately came out to help me and called emergency services.

Unfortunately, the driver that struck me fled the scene and my family and I have been unable to find out who that driver is. The knowledge that we do have is that they were going down south on 13th Ave S in a white or grey sedan and that they made a quick left on S Winthrop Street.

I ask anybody who has any knowledge of said incident to please contact my friend Niko via phone or e-mail. His information is below:

Niko Kirov
(206) 419-8964
nskirov@gmail.com

Thank you for your help,
Abde and Family
Did you see anything on Monday, March 25 that could help identify this hit-and-run driver? Please contact Niko Kirov or the Seattle Police if you can help.