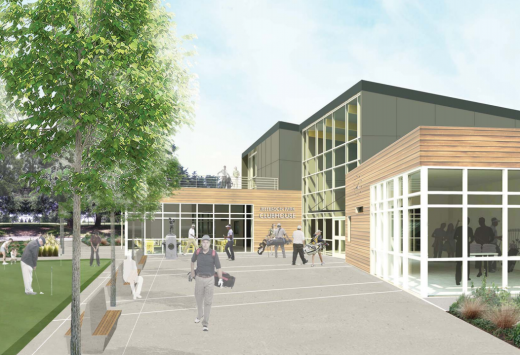 Advance notice — this Friday, October 26, at 9 a.m., the Seattle City Council Planning, Land Use, and Sustainability Committee will meet to discuss (and possibly vote) on the Jefferson Park Golf Clubhouse project.
There will be a public comment period at the beginning of the meeting according to an agenda distributed yesterday.
Here is the information from the agenda about the Jefferson Park discussion and vote:
5. C.F. 312119
Council land use action to allow a new 19,800 square foot two-story clubhouse and driving range structure, a new 4,1 00 square foot cart storage structure and 20,000 square feet of paving improvements, including a request to waive development standards to allow field lighting up to 90 feet in height and netting and net poles up to 140 feet in height (Project No s. 3012845and 3013107, Type V).

DISCUSSION AND POSSIBLE VOTE (10 minutes)

Presenters: Susanne Rockwell, Department of Parks and Recreation; Dan Miles, Bassetti Architects; Michael Jenkins, Council Central Staff

Supporting Documents:
a. Central Staff Memo
b. Attachment to Staff Memo
c. Jefferson Park Golf Master Plan
d. Jefferson Park Presentation
The new clubhouse has been the subject of some controversy, with some wanting the old clubhouse preserved, and others who want the new clubhouse built. Read more about the clubhouse in our Jefferson Park Golf Clubhouse archive here.